Brown Recluse Spider Solutions - Jamel S. Sandidge Ph.D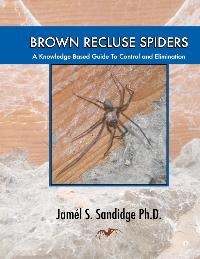 http://www.brownreclusesolutions.com http://dustrod.com/ A Knowledge Based Guide To Control and Elimination. Jamel Sandidge has received numerous academic, research and community awards for service and research excellence. This comprehensive guide demonstrates inspection and treatment techniques that he has learned over the course of many years of study population dynamics, population genetics, ecology and behavior of brown recluse spiders in urban habitats. There are may detailed, color photos of the brown recluse spide hiding places and treatment techniques. An Excellent guide for any technician performing brown recluse work.


Bed Bug Information Resources

http://www.ca.uky.edu/entomology/entfacts/ef636.asp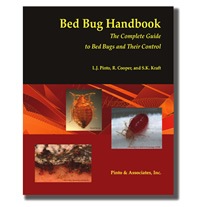 Bed Bug Handbook:

The Complete Guide to Bed Bugs and Their Control



Written by Larry Pinto, Richard Cooper, and Sandy Kraft




The Bed Bug Handbook is a complete and up-to-date guide to bed bugs and their control. Extensively illustrated and with 286 pages, the handbook provides practical step-by-step guidance for preventing bed bug infestations and for controlling bed bug outbreaks. It includes details on bed bug inspections and methods of control including mechanical (encasements, vacuuming), thermal (dry heat, steam, and cold), insecticide treatments, and fumigation

http://www.nixalite.com/PDFs/bedbuginformation.pdf

http://medent.usyd.edu.au/bedbug


BED BUG CENTRAL - BED BUGS 101

http://www.bedbugcentral.com/bedbugs101/all.cfm

An informative website with information everyone should know about bed bugs including detailed photos. This site created by Richard Cooper, entomologist and Technical director of bed bug central explains bed bug history & resurgence, identification, biology & behavior, disease & bite symptoms, early detection, elimination and much more.

This is a great website to refer to your customers who may be experiencing bed bugs so that they get a better understanding of bed bugs and their control.

IMPORTED FIRE ANTS IN TENNESSEE

http://fireants.utk.edu/Documents/PB1739.pdf

WOOD-INHABITING FUNGI AND INSECTS

A GUIDE TO THE INSPECTION OF EXISTING HOMES FOR WOOD-INHABITING FUNGI AND INSECTS by Michael P. Levi

This guide is designed to be used as a practical tool by building inspectors and appraisers, and by others interested in reducing damage by wood-inhabiting organisms in houses.
TECHLETTER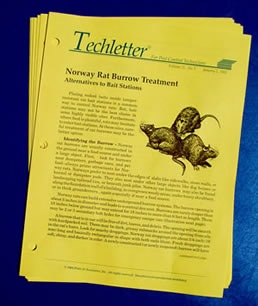 Techletter®...the training letter for pest control professionals

Techletter® is a biweekly training letter for pest control technicians...the professionals responsible for pest control in and around residential and commercial buildings. It is the only publication of its type...and is expressly written for those on the front lines of pest control.

Techletter covers topics such as integrated pest management (IPM), equipment use and maintenance, safety, pest ID and biology, inspections and monitoring, pesticide regulations, and the latest pest control techniques.

Techletter has been in continuous publication since 1985. Pest control professionals around the world depend on it.

Techletter is published every two weeks
Techletter.com Pest control publications, information, and resources


COPESAN UNIVERSITY

STATE-OF-THE-ART ONLINE TRAINING AT AN AFFORDABLE PRICE

Courses on insects and Business.

http://www.pctonline.com/copesan



PURDUE CONTINUING EDUCATION PEST MANAGEMENT

Training programs for pest management professionals

protecting health, property, and food.

OPEN ENROLLMENT COURSES AVAILABLE AT A DISTANCE https://www.continuinged.purdue.edu/media/pest/pest.pdf

PESTWEB


Pestweb.com - Online training series for Univar Customers. Master Technician Program available. www.pestweb.com

THE ASSOCIATE CERTIFIED ENTOMOLOGIST PROGRAM

The Associate Certified Entomologist Program ACE Certification can lead to better visibility, opportunities, and jobs. In today's increasingly complex and highly-specialized economy, credentials are everything. Sure, you know you've got the skills to do the job, but how do you convince potential customers and employers? For many career-minded pest management professionals, certification is often the answer.

The Entomological Society of America, long the industry leader in certification through its Board Certified Entomologist (BCE) program, is pleased to announce a new certification option geared specifically toward the pest management industry. Launched in May of 2004, the ACE program is rapidly becoming the industry-standard for professionalism and training. Consider these remarks from an ACE. His success story is not isolated.

Apply today and you can still be among the first ACEs in the nation. The steps to become an ACE are:

Step 1: Determine eligibility

Step 2: Application

Step 3: Study for your examination

Step 4: Select a proctor

Step 5: Take your examination

Step 6: Maintain your certification