440 Hogan Road, Nashville, TN 37204

mailing address: TN Dept. of Agriculture, Ellington Agriculture Center PO Box 40627 Nashville, TN 37204

HELPFUL NUMBERS

Kathy Booker, Pesticide Administrator 615-837-5133

John Ewell, information from the pesticide registration/license issuance office please call 615-837-5340 or E-mail JOHN.EWELL@TN.GOV you can also get the Registration Review via E mail or hard copy by contacting John - the Registration Review is a monthly publication giving dates and places of Training, new companies, Pesticide changes, changes in laws and regulations, information of certification and licensing ….

Jerry Seabolt, Structural Supervisor 615-837-5178

Sabrina Shaw, Inspector 615-837-5148

CERTIFICATION INFORMATION:

A new certification cycle has begun as of July 1, 2020 and extends through June 30, 2023. Each certification year now ends on June 30th of each year. You must earn the required number of CEU points in more than one certification year No more than 50% of the total required number of points can be "In-House" which includes training by one's own company or anything done online. No more than 75% of the total points requirement can be earned at any one meeting. Beginning July 2020 the certification period will run July 1 - June 30.

WHAT YOU NEED TO KNOW ABOUT RECERTIFICATION







INFORMATION ON CERTIFICATION EXAMS, LOCATIONS, DATES, STUDY MATERIAL


CHECK YOUR CERTIFICATION POINT STANDING: website below, you can use your certification number, social security last four or last name.


https://healthspace.com/clients/tda/state/weblive.nsf/searchIndividual.xsp





2023 Apprentice Termite Technician School


Apprentice Termite School
June 13-15

forms can be found below and at tn.gov/agriculture under 'pesticide forms'
Jerry Seabolt 615-837-5178











http://psep.utk.edu find: Training Dates, Study Materials, Study Material Order Forms, TDA Forms & Fact Sheets, Upcoming Meetings and more for certification and licensing.PESTICIDE SAFETY AND EDUCATION PROGRAM found at

https://secure.touchnet.com/C21610_ustores/web/store_cat.jsp?STOREID=5&CATID=3

To: Pesticide Safety Education Program - 2431 Joe Johnson Dr, 205 PSB - Knoxville, TN 37996-4560 phone (865) 674-7138 Fax (865) 974-8868

TO GET SCHEDULED FOR AN EXAM: call 615-837-5148 or visit the website at www.tn.gov/agriculture to get your application under downloadable forms. The fee to take the certification exam is $25.


LAWS & REGULATIONS GOVERNING APPLICATORS OF RESTRICTED USE PESTICIDE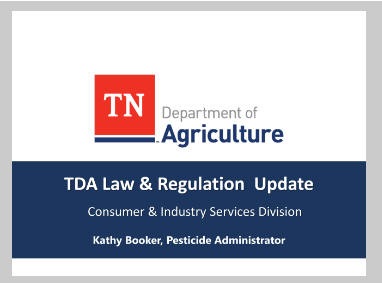 Rule change on Round Up (Glyphosate) and Lawn Maintenance


Effective July 29, 2009


RULE CHANGES


On April 14, 2011 Governor haslam aproved the changes for House Bill 1240 regarding 61-21-102 (22) which now reads as listed. This change became effective on April 14, 2011.


"Under the direct supervision" means any application or sale of a pesticide by a certified applicator acting under the instructions and control of a private applicator, or commercial pest control operator who is available if and when needed, if the applicator or operator is physically present or in the direct communication by conventional means of communications.


DRAFT OF PROPOSED RULE CHANGES FROM THE DEPT. OF AGRICULTURE - ANY COMMENTS MUST ARE DUE BY JANUARY 24TH.





Pesticide Spraying on Waters.The pesticide-spraying language, taken from a bill (H.R. 872) that passed by the House in March 2011, would bar the agency from requiring National Pollutant Discharge Elimination System permits for pesticides that already are registered for use, sale, and distribution under the Federal Insecticide, Fungicide, and Rodenticide Act.

That bill was approved in June 2011 by the Senate Agriculture, Nutrition, and Forestry Committee, but it stalled after Sens. Barbara Boxer (D-Calif.) and Benjamin Cardin (D-Md.) placed a hold on the legislation.

The NPDES permitting requirements took effect Oct. 31, 2011, after a 2009 decision by the U.S. Court of Appeals for the Sixth Circuit overturned a regulation allowing permitting exemptions for farmers and public health officials who apply pesticides on or near water (National Cotton Council v. EPA, 553 F.3d 927, 68 ERC 1129 (6th Cir., 2009); (212 DER A-37, 11/2/11).

http://www.bna.com/house-agriculture-committee-n12884910631/


http://agriculture.state.gov.us/listcommpts.asp

Enter your certification number or the last 4 of your SS# or Last name in the box on top -Click on your name from the roster that appars, and your certification, license and point information will be displayed. If you have any questions on your certification, please contact Mary Borthick, certification division at the Dept. of Ag. 615-837-5310 or email: Mary.Borthick@state.tn.us If you have questions about a class that Region 3 put on, you can contact Carol Lane 615-873-7242 or 615-902-9684 or email at kayakcarol@bellsouth.net

T